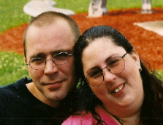 Biscotti A Go Go is owned and operated by Zia T. A little bit about how Zia T started her adventures in baking. Just a little FYI Zia is Italian for Aunt. Zia T is Theresa Doria. At the age of 2 was helping her Nana, Grammie and Neighbor Grandma Mitchell in the Kitchen when they would prepare the Holiday Meals and Desserts. She is not just an
accomplished crafter and artist she is
great self taught Chef.
By the age of 5, when Poppa asked Nana f
or a piece of cake or some cookies, with in the hour Poppa would be enjoying Rolly Pollies (Walnut cookies) or a piece of cake, and the Big Man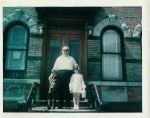 would be satisfied. He had a big sweet tooth and was her best taste tester. Theresa learned to bake with her all her senses. Since that time Theresa's culinary skills have been requested by friends and family a like.
This year 2010, Theresa was encouraged by fiancé Lou and Cousin Robert to start up this business as both often fight to get her to cook for them. This a long standing, long distance culinary family feud.
Let Zia T deliver her biscotti and baked goods for your next special occasion. If you live in the NYC area Zia T can cook a full meal from start to finish for your intimate gatherings. Everything is made with love, and old fashion goodness!

Order today and enjoy the best traditional Biscotti .... with a twist!
Open for Phone orders everyday from 8:00am to 9:00pm
Biscotti A Go Go
Middle Village, NY
718.326.0984
or email us your order at
ZiaTsCucinaAmore@gmail.com
We accept PayPal for all Credit Cards orders
or contact us to make other payment arrangements
We personalize every order!